In one of his most memorable keynotes, Steve Jobs once told the graduates of Stanford University "You can't connect the dots looking forward; you can only connect them looking backwards."
I'm thinking about this because I'm back in Europe again, and it's all because I cofounded a tech company in Chicago in 2008.
There, we met and brought on as one of our advisors Biju Kulathakal, an investor who, 14 years later in April 2022, posted on LinkedIn that he was in Poland looking for ways to support Ukraine refugees. I happened to see the post and reached out, we had a call, and now I'm working with him and his firm to establish a permanent humanitarian mission to help Ukrainian refugees. As he and his team race to set up the nonprofit legal and fundraising machinery, I'm on the Ukraine/Poland border managing our supply chain.
And today, with only $5,000 in initial donations, we procured 5.5 metric tons (over 12,000 pounds!) of food aid for our friends in Kharkiv, including fresh cabbage and carrots, which are desperately needed there right now. The food is being stored in the Lviv warehouse right now, and will be en route to Kharkiv by this weekend.
For the curious, this shipment contains 2 tons of carrots, 2 tons of cabbage, 750kg of rice, 200kg of pasta, 960 cans of tuna (170g each), 200kg of sugar, 100kg of salt, and 5000 tea bags. Pretty incredible volume of food that I got a good picture of as we were loading this morning.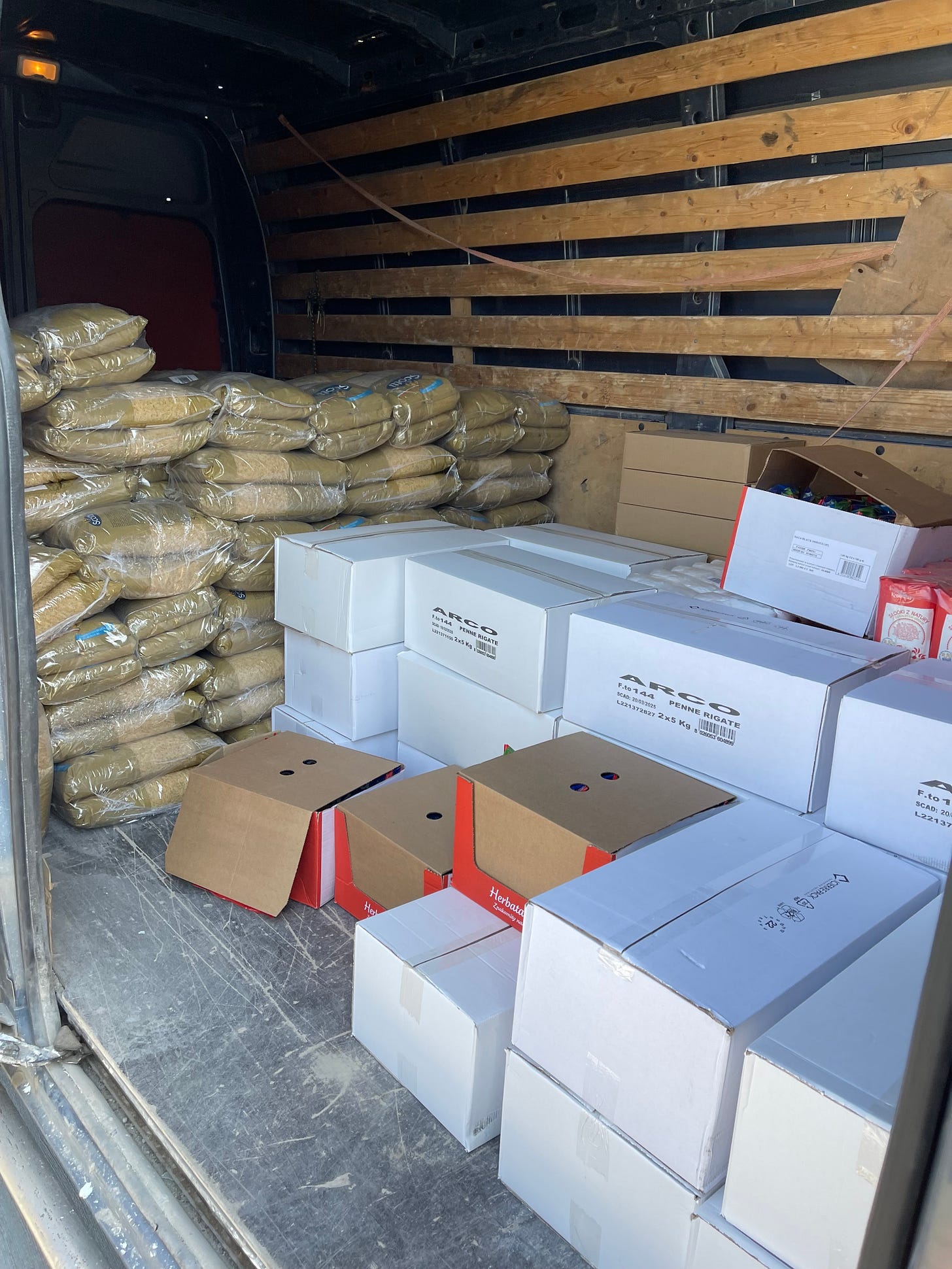 Last time, I was a new volunteer working full time and scrambling to figure out how things work here. Now, I'm an old hand, and much more efficient in everything from sourcing supplies to crossing the border. This morning, I met my Ukrainian counterparts for our handoff only 20 minutes later than expected, which is a miracle considering a typical border crossing can take 5-7 hours here (I also have some tricks up my sleeve which I'm not eager to publicize).
I also had the opportunity to witness the multi-km-long line of cars waiting to cross into Ukraine from the Poland side, which I hadn't seen before. My friend told me that this particular border crossing is one of the few that's now allowing cars to be imported (as in, brought in permanently with the correct registration), which explained the line. It was almost at a standstill.
After the supply dropoff this morning, I drove back to the train station at Przemysl to meet some of the new volunteers, one of whom I had a long conversation with. She works in DC and is living at the border helping coordinate refugee resettlement with friends + family funds. Like so many out of towners here, she just decided to fly in and help with no plan, and has worked so hard to help as many people as possible. It's incredible to me that the entire operation at the Przemysl is volunteer driven with almost no central coordination, and yet somehow it all works.
I was also pleasantly surprised to see that there were slightly more services available to refugees getting off the trains than there were last month (for example, free phone cards), and there were two ticket windows open this time as opposed to just the one. But in general the government is still quite limited in terms of involvement, and thousands of people still pour across this particular border every day. And that isn't to mention the thousands who are stuck or stranded in Ukraine, especially the mostly elderly and children of Kharkiv who desperately need help.
Quite simply, the people of Ukraine who have been most victimized by this war can't get the humanitarian aid they need without help.
Which brings us to you, our donors.
We're back, and this time we're scaling our operation. The organization we're working with is supporting 15,000 homeless families in Kharkiv right now, which at 3 people per family and 300 grams of daily food needed per person is 13.5 kilotons of food needed every day, or about 100 kilotons per week. We hope to supply at least 10% of these needs with 10 kiloton shipments to start, scaling as we go to account for the evolving needs on the ground.
For $20,000 we can arrange one 10 kiloton shipment with the right nutritional balance of grains, meat, fresh produce, tea and snacks including transport and storage fees.
For $20,000, we can provide 10,000 people who have been made homeless by war a hot meal.
For $20,000, you can save lives.
When you donate, you are directly funding this effort. So please reach out if you want to donate — your donations will be tax deductible this time!! — and we will set up a website soon to make it even easier.
Also please reach out if you can help source any of the supplies listed in my previous posts. We have many shipments coming into our Przemysl warehouse now of medicine and other supplies, and for this I am eternally grateful.