I'm sitting in a Copenhagen coffee shop during a brief layover on my way back to New York. On my walk here from the train station, I've already seen two Ukrainian flags flying. Seeing this vociferous support from the free citizens of yet another European country has been a moving and fitting bookend for my trip.
In the last week, we've seen intensified attacks in Mykolaiv and Kharkiv, and a Russian facility holding Ukrainian prisoners of war destroyed in an apparent false flag operation. Some of my Ukrainian friends abroad think that the outcome of the war is heavily in Putin's favor. I'm not so sure.
What I've seen in the past month is dedicated volunteers from Ukraine and around the world working together to repel this unique and dangerous threat. These front-line volunteers, many of them foreigners who have permanently moved to Ukraine to drive trucks, carry boxes, treat wounds, and enlist in the defense force, are at the front lines of a global effort to stem Russian aggression, and the political implications of this war that reverberate far beyond the yellow sunflower fields of this beautiful country. As Russia continues to violate international law in its bombardment of civilian neighborhoods and targeting of humanitarian aid workers, the people and their advocates are not cowed, but are working closely together to evolve their tactics and continue to get aid to the front lines where it's needed most.
At the same time, the war has become a part of everyday life for Ukrainians, as they juggle their normal jobs and errands and social activities with the war effort. One of my partners on the ground is a full time dental surgeon who sets aside a portion of his income to fund the basic needs of displaced civilians and front line soldiers. On the other end of the spectrum, a new friend I made in Kyiv recently proposed to his girlfriend by dropping a ring as a payload from one of his self-made bomber drones.
When I first came out to the border in April, we were in a deep refugee crisis. Now, most refugees have settled abroad or returned home, and most internally displaced persons have created new lives for themselves in new cities, although many will want to return home after the war. When I came out to Ukraine again in May, a deep economic crisis had set in, with diesel shortages and skyrocketing prices, and Ukrainians close to occupation zones finding it harder and harder to procure basic needs.
Now, five months into the war, Ukraine is facing a crisis of character, as Russian occupation has cleaved off large swaths of the country, trapping so many Ukrainians in a new world with a new language, culture and history, under a brutal system of summary justice and arbitrary violence. Families have been forcibly separated and children have been "repatriated" to Russia. Meanwhile, Ukrainians close to the front lines face the hard choice every day of whether to escape if they can from the only homes they have, or try to continue to live their lives as normally as possible, as the booms of artillery echo frequently on the horizon.
I wrote in my last update that I didn't feel like my presence in the country was as necessary anymore, and now as I'm on my way back to the United States, I am more certain than ever that this will be my last trip to Ukraine for some time. That's not to say that I won't continue to support key partners on the ground who will continue the work. In fact, that's one of the many reasons I feel comfortable stepping away: The volunteers I work with on the ground have become almost professional in their efficiency and effectiveness. Another reason is that my best skills in logistics and problem solving are less helpful now that the reality of war has become normalized: We know where the problems are and how to solve them, and what remains is mostly execution, which is best left to the full timers. The last reason I am comfortable stepping away is that the best way for me to contribute right now is to refocus my efforts on raising money in the United States and funneling it to the ground organizations doing the best work, and I can only do that if I stay local.
I've been inspired by the front line volunteers who take aid to the remotest parts of the country where even the government won't go. I've also been inspired by all of you who have supported these efforts with your time and money and encouragement. So far, 100% of your donations have gone to support relief efforts for refugees, internally displaced persons and Ukrainians trapped near or at the front lines.
That said, there's always more to do. Right now, we're raising money to purchase three water filtration systems for Mykolaiv and the non-occupied areas of Donetsk Oblast, where the Russians have poisoned the wells and no clean drinking water is available. Each system costs $6250 and can supply an entire town's worth of clean water per day, eliminating the need for the locals to figure out how to get expensive bottled water delivered into a hot zone. We will install these filtration systems ourselves at secure location and facilitate the delivery of clean water to the towns and cities in the region that need it most.
If you'd like to contribute to this effort, please donate to our 501(c)3 now.
Of course, not all the work we do is strictly material. I'd like to leave you with a sweet story. One of our front line volunteers recently learned about a girl in Bucha who missed her 5th birthday while the town was under occupation, so he and other volunteers in the area organized a belated birthday parade for her. Her home had been ransacked by Russian soldiers and she had lost her bicycle, so they also got her a new one as a gift. The video, and this photo of a child traumatized by war now reunited with her favorite bicycle, speak for themselves.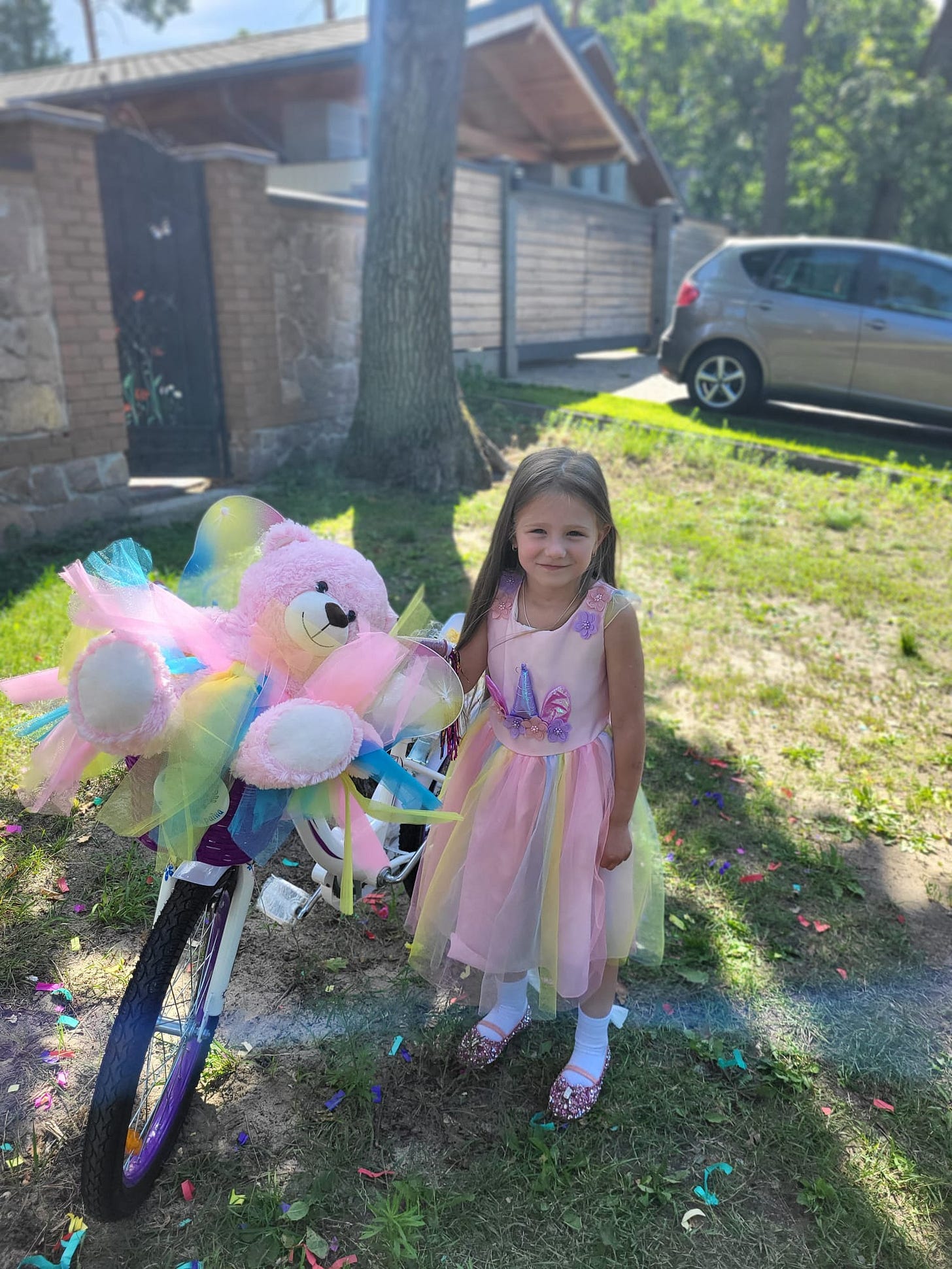 Thank you for all your support, and as always, Слава Україні.