A year ago yesterday I was at a restaurant here in Miami with my Ukrainian friends, debating what was on everybody's mind at the time: whether Putin would actually send his troops then building up on the border into another sovereign nation to invade.
No one at dinner that night believed it would happen.
A year later, look how wrong we were. The last year has brought unbelievable destruction and pain to the people of Ukraine. Having made 5 trips there to date, I've seen firsthand how brutal and oppressive Russia's illegal, unjustified occupation of east Ukraine has been. I've seen entire neighborhoods leveled. I've seen communities lining up to get dirty water from the ground. I've driven for hundreds of kilometers through densely populated regions shrouded in total darkness.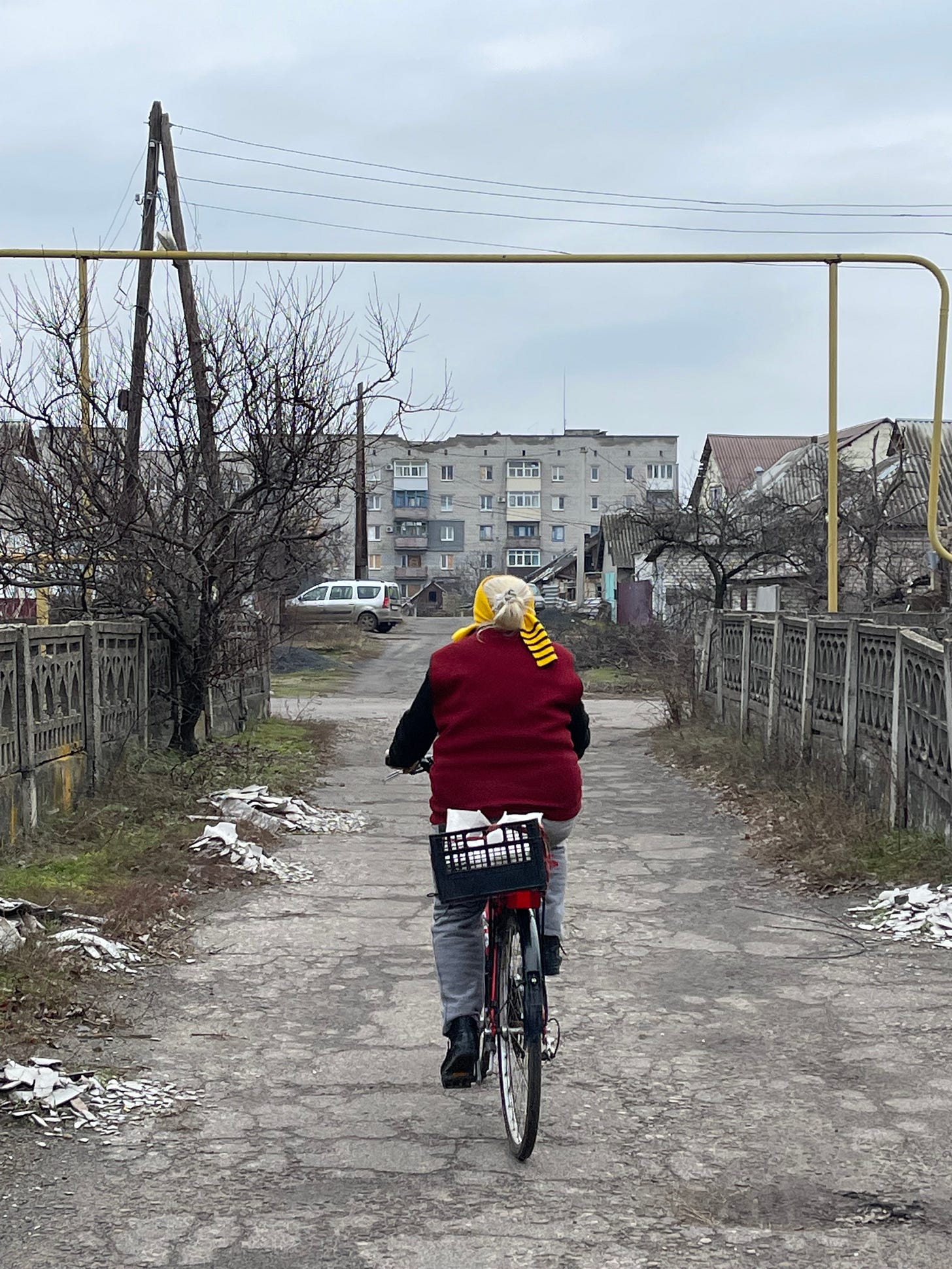 Life has become uneasily normal in many parts of Ukraine, with malls and restaurants open, playgrounds crowded, schools in session. Yet millions of families are burning makeshift wood stoves for heat. Electricity will often cut out for no reason for an arbitrary amount of time. And most importantly, people always have their eyes and ears angled skyward.
This 9-year-old boy we met in Lyman, Donetsk Oblast on Christmas Day was in the middle of opening a present we brought him when we saw — and then heard — some artillery fire. "That's one of ours," he said matter-of-factly. "Counter missile defense."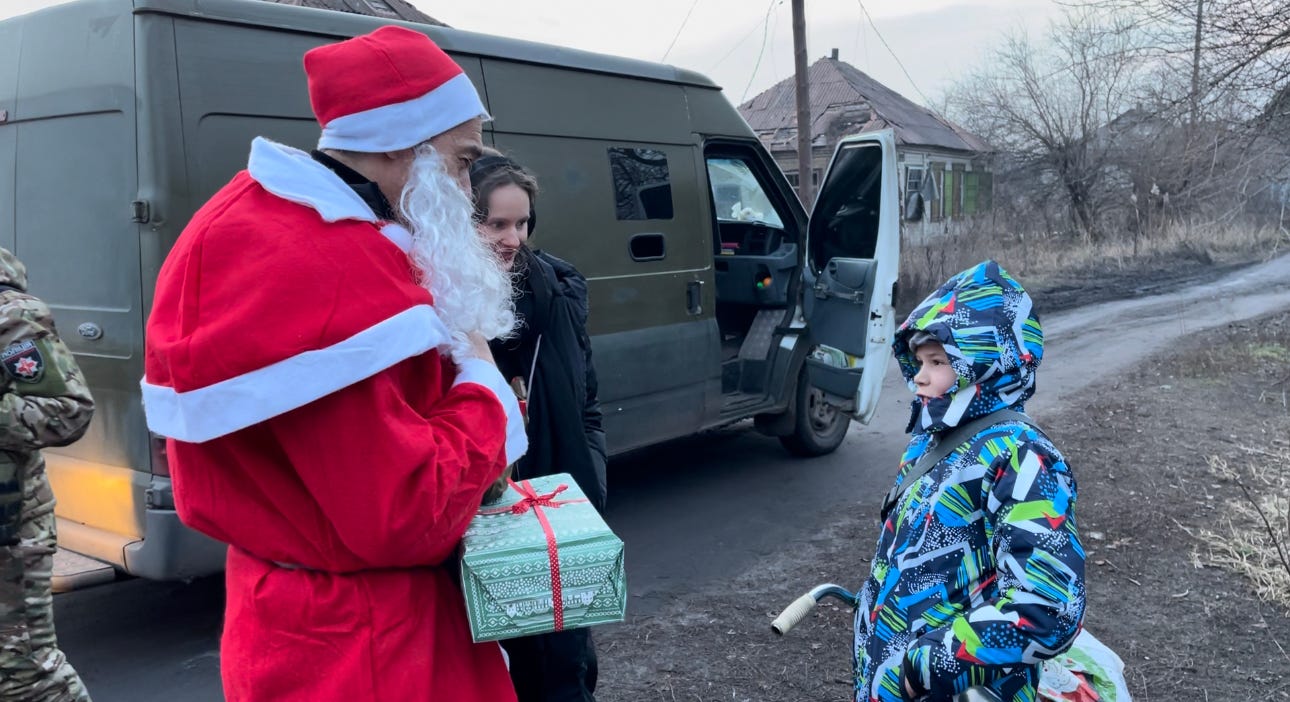 The fact that a child is identifying rocket barrages by sound while most kids his age are learning their multiplication tables is hard to bear. So, too, is the thought of millions of children who have been forcibly evicted, orphaned, kidnapped, raped or killed in the last year. The young men who have had to go off and die for someone else's warped sense of history and ambition. The elderly who have frozen to death in the unforgiving winter.
As horrible as the things I have seen and heard in the last year are, they have driven me to keep going. I started this blog when I first landed on the border with Poland, never intending to even set foot in Ukraine. When I first crossed the border, it was to bring one trunkful of aid across, and eventually as I started to make the trip more frequently, entire trucks' full. Before I knew it, I was organizing tens, and then hundreds of volunteers to do the same. Donor dollars kept pouring in. With the help of generous family and friends, and the support of all of you who subscribed to my blog and followed me on social media, we worked together to bring more humanitarian aid to more civilians, unlocking incredible partnerships with other NGOs all over Ukraine.
Before I knew it, Ukraine Aid International was born, a nonprofit whose focus and purpose has become increasingly clear: to bring humanitarian aid directly to the civilians who need it most. Not to the warehouses of Lviv and Kyiv which are overflowing with donated aid, but to the front-line communities who have suffered the most from this terrible war, and who have nothing.
These communities are the hardest to reach, and we have now built an entire fleet of volunteer drivers and vehicles to organize transport of critical humanitarian aid to the people who need it. Through over 500 successful missions to date, we have delivered over 1 million pounds of humanitarian aid to front-line communities.
We have also created an invaluable Sister City partnership between my hometown of Westport, CT and Lyman, pictured above. This partnership has already unlocked over $250,000 worth of aid which has paid for construction materials, municipal vehicles, police gear, and more.
I'm so proud of this partnership, and I'm so grateful to Westport First Selectwoman Jen Tooker, Police Chief Foti Koskinas, Lyman Mayor Alexander Zuravlov, Dan Woog, Katya Wauchope, my brother Marshall, and of course Liz Olegov and Richard von Groeling without whom this work would not have been possible. And we're building more of these partnerships as we speak!
Throughout this all, you have all been so supportive of our efforts to scale our impact. You have all donated, asked friends to donate, made introductions, and told the world what is happening in Ukraine and what can be done to help. Thank you all so much for all your generosity in the last year.
Going into the second year of this terrible war, our work is not done. In fact, it's just beginning.
We're raising $1 million right now with the goal of delivering over 10 million pounds of humanitarian aid to front-line communities in east Ukraine in the next year. We need your help to tell your friends about this effort. We need your help to keep the spirit of Ukraine and the Ukrainian people alive, even after it has slipped out of the media narrative and the political winds in the US are wavering. People are still suffering and dying, and UAI will be on the ground as long as we possibly can be.
We couldn't be more grateful for your support, and I'll continue to update you all on our efforts as I can. In the meantime, Slava Ukraini — as long as we're all in this together, we will prevail.