After a couple false starts involving bum paperwork and a particularly ornery Polish border officer, I've finally crossed into Ukraine and made my first delivery drop of the week in this sleepy town about two hours west of Kyiv. My new truck carries at least 8 pallets although under the weight of almost 2,000 kilos it was running a bit overloaded and sluggish — something that has not boded well for many of my driver friends here. Fortunately, the roads west of Kyiv are still pretty good so I didn't encounter any car trouble.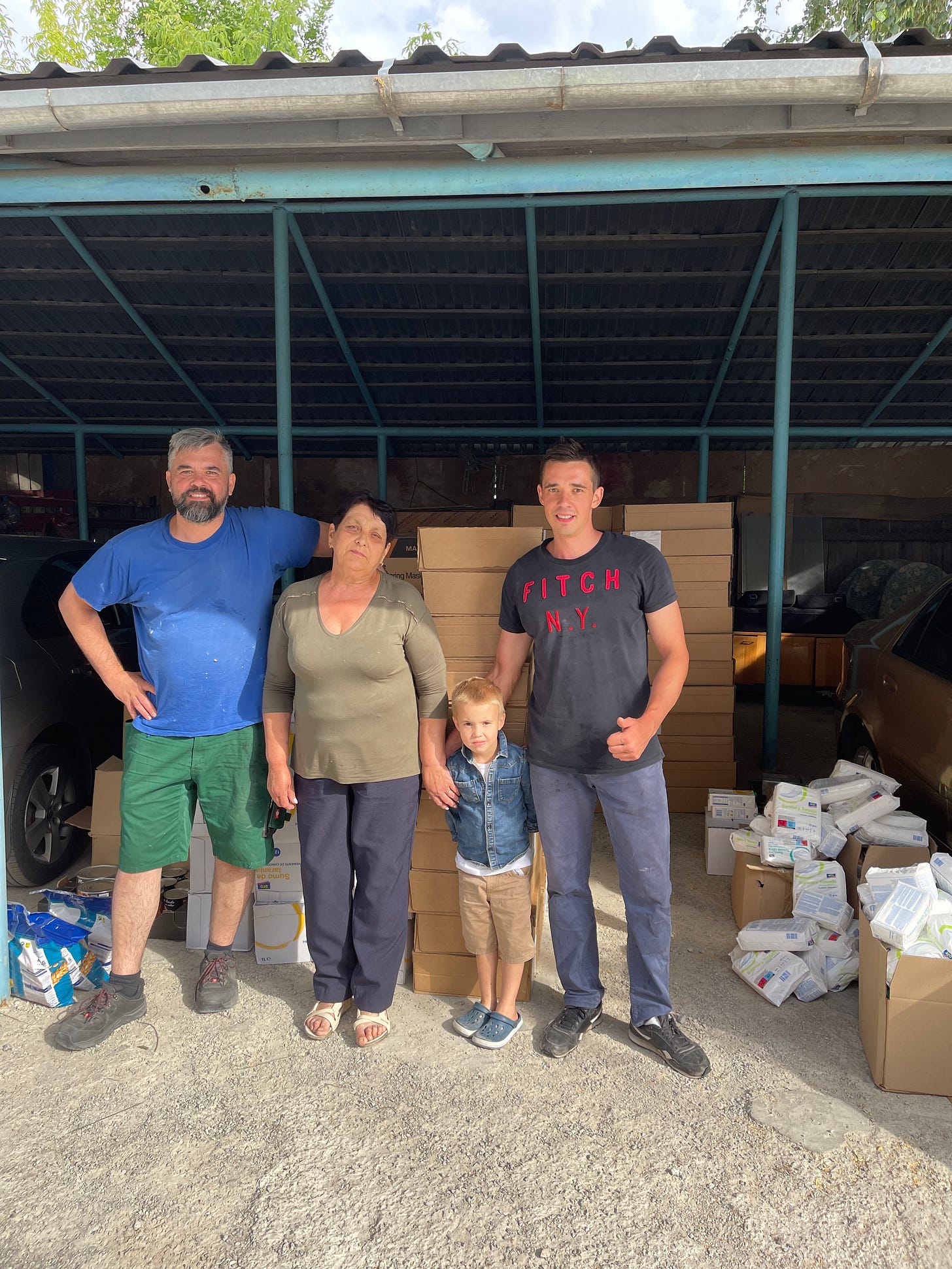 Not meaning to offend the locals, this is one of those towns that I would never visit under normal circumstances. That said, it has been a major delivery point for our aid efforts, given the relationship between the Catholic Church here and the Mexican-Jewish NGO, Cadena. I've helped organize at least 30 pallets of shipments here so it was nice to finally meet the folks we've been helping. One of the running jokes we've shared with the Ukrainians is how many thousands of tortillas we've brought into this country unaccompanied by any salsa, guacamole or cheese — those will have to wait until we open our taqueria after the war.
For the last couple days, I've also gotten to play Santa Claus with the suitcase of 250 military-grade CAT combat tourniquets I brought with me, handing them out to volunteer drivers bound for front line soldiers and field hospitals. They're a hot commodity and I'm doing my best to spread the love, but it isn't enough. Calls for medical aid from tourniquets to IV catheters to even flu tabs have reached fever pitch. We're working on a major shipment of insulin right now which has be taken in a refrigerated transport across 900 kilometers in the middle of summer.
The more we improve our ground operations — and they do really run efficiently — the more frustrating European bureaucracy has gotten. At least in Ukraine, you can usually grease the wheels for twenty bucks or a pack of cigarettes. The Europeans, on the other hand, seem to have a pathological addiction to red tape, and I fear it's killing almost as many Ukrainians as the Russians are. These tourniquets I'm handing out now took two months to get into the country because they were held up in Polish customs for weeks. Another medical shipment we sent from the states was sent back, and is only now on its way to Lviv via an alternate route.
I've been in and around humanitarian efforts here since the first weeks of the war and I don't know anyone who has successfully established a medical supply route. The best that anyone has come up with is sending volunteers to fly over with checked bags, which is grossly ineffective and horribly expensive. I just today found out that there's one company that does it, but you have to break large shipments into smaller shipments. I'm going to reach out to them tomorrow to find out the deal, because there's several pallets of aid we're trying to move from Chicago…fingers crossed.
In the meantime, the work continues. Several orgs are successfully bringing in food aid right now, and there are plenty of drivers to take it. We've established an efficient communication network with good trust protocols (and believe it or not, burn protocols). There are so many individuals and groups working on the ground here, and it feels like I meet a new one every day. Ultimately, though, no matter what logo you're representing, when you're on the open road it's just you and your truck, preferably with a good soundtrack ("Highway to Hell" always a good starting song).
Keep the donations coming. Every penny is being spent on food aid, medicine or diesel. You also helped buy an ambulance which crossed the border last week, and two water filtration systems for the city of Mykolaiv. Thank you.