I'm finally back in NYC and after a couple days of returning back to "normal," including catching up at my day job and taking some R&R, I'm ready and excited to tell you about the next phase of our fledgling operation on the ground in Ukraine and Poland.
First off, let me profusely thank each and every one of you who donated. Over the last two weeks, you all donated $23,172.12, of which every single penny has been spent as follows.
$10,876.22 on humanitarian aid for Ukrainians in Kharkiv, Lviv, and Sumy including food, diapers, sanitary supplies, and basic clothing
$4,870.18 on defense support for Ukrainians serving in the volunteer Territorial Defenses corps: helmets and temporary shelters
$2,686.11 on refugee relief at the border, giving Ukrainians traveling 6+ days with suitcases and power banks, and priceless hugs and emotional support
$2,397.90 on medical aid, sending tourniquets, lifesaving medications in short supply and first aid kits to Sumy, Donbass and Kharkiv
$1,734.77 on refugee + supply transport, personally resettling 15 refugees including one very old blind man and his wife who we reunited with their family in Brussels
$433.00 on storage, namely our new warehouse in Przemysl to empower more efficient transport with our new supply routes
$173.95 on fees, currency conversion and other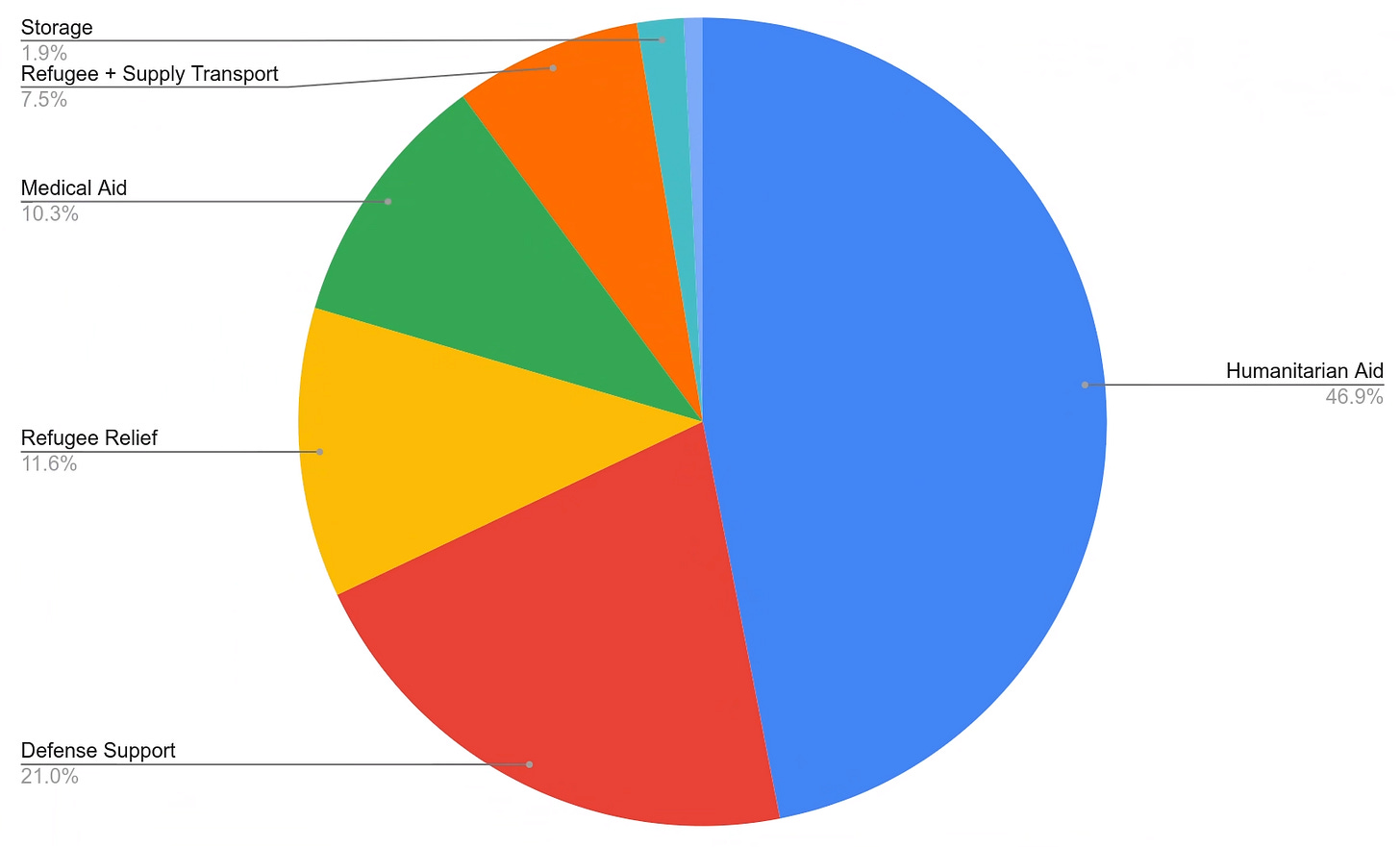 We also have received some heartwarming photos of families in Kharkiv who have received our food aid — taken on the front lines in the east. Many of the people receiving our food aid are homeless or elderly, in a city that has perpetual food shortages due to lack of reliable commercial shipping. Sharing this with permission.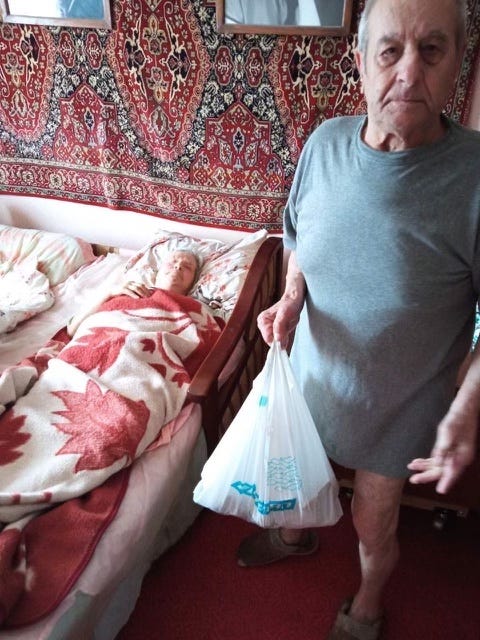 It doesn't seem like a lot of money, but it has made such a difference. We've managed to ship over 8 metric tons of food aid so far, and helped protect volunteer defenders from harm. We've supported refugees and their families, and continue to coordinate with logistics operations on the ground to ensure critical support is received by the people who need it most.
This is all due to your generous donations, and I can't thank you enough.
So, where do we go from here? Reliable sources tell us that the war is not letting up, and only getting worse. I'm sure you've seen the news that both Russians and Ukrainians are preparing for a long war. This means more people killed and hurt, and more people in need of support.
The good news is, I've spent the last week planning our next steps, and I'm excited to share them with you all.
First, on the funding side, we are establishing a 501(c)(3) to allow us to continue raising donations from more people and expand our operations. I've been speaking with one US-based partner in particular who is excited to work together on fundraising and establishing a legal structure for our efforts. More on this soon.
Second, I've been working with, and continue to partner with some new friends from the UK who have been active on the border since the first days of the war, and who recently launched the Kharkiv-Przemysl Project to organize their efforts on the ground. They will be our primary points of contact at the border, helping to coordinate supply drop-offs at our warehouse and pickups to Ukraine. If you want to donate, this is the best place to do it for now and we will make sure that it gets spent transparently and effectively.
Third, I myself am planning another trip back to the border in May, and I appreciate your support in advance and look forward to sending regular updates when I'm back.
Until then, thank you again for all your donations so far and helping support and protect Ukrainian civilians. I'll be in touch soon with more updates.
Слава Україні.