I'm writing to you from a town you've never heard of on the Polish side of the border with Ukraine, a town so small that it took an hour of driving through dark country streets to get here with no other cars on the road.
I would tell you the name of the town, but I'm trying to protect the confidentiality and crossing logistics of the convoy I'm in contact with here, organized by a local with several international volunteers including a very nice British man I've gotten to know over the last few days. Tomorrow, this convoy will pick up a package of humanitarian aid that all of you donated and deliver it to Lviv, where it will be in turn picked up by one of my contacts and taken to Kharkiv, where this is happening: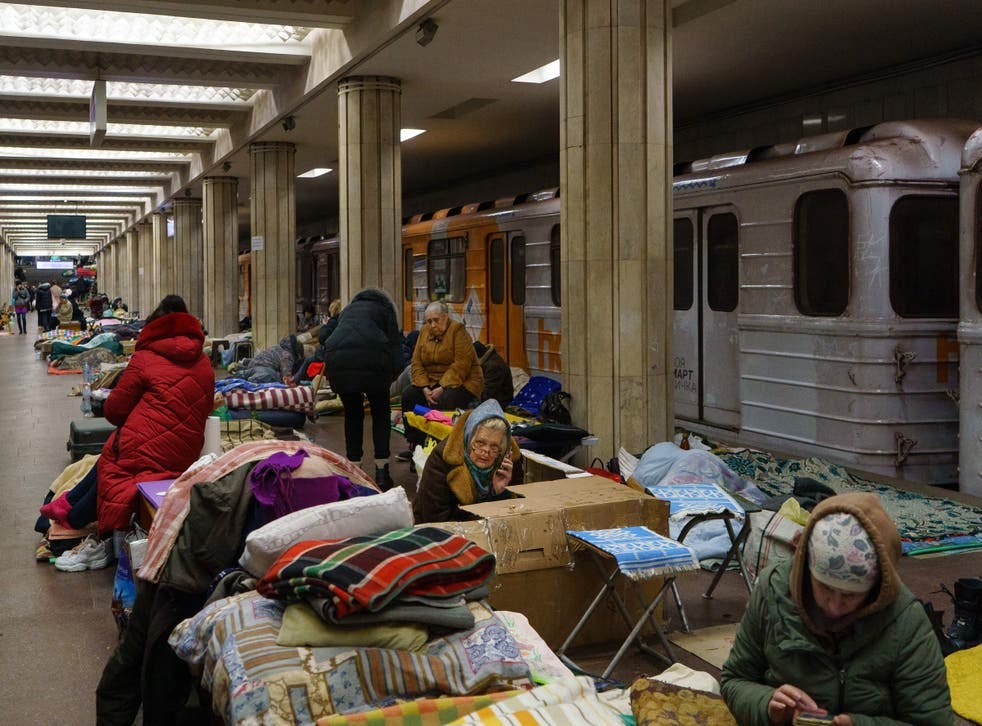 According to first hand accounts from refugees coming across the border to volunteers at the train station today, it's even worse in Kharkiv right now than anyone knows. They are reporting summary executions, children being sexually assaulted by soldiers, dead bodies in the streets, and at least 70% of the city in ruins.
My contacts in Kharkiv tell me that at least 40,000 people are in dire need of humanitarian aid from food to medicine to basic sanitary supplies, so this is where our first supply shipment is headed.
Bound for Kharkiv tomorrow, to be distributed to those most in need, will be a sizable shipment of:
Grains (Flour, Rice, Beans, Pasta)
Canned Fish, Meat, Vegetables
Diapers
Sanitary Pads
MREs (Meals, Ready to Eat)
Candy for the kids
This shipment was paid for with YOUR donations, and is the first of what will hopefully be many. Using this first shipment, we're testing the logistics of a new supply route that runs from the border to Kharkiv through several handoff points. If it works, we have an even bigger shipment waiting at a restaurant supply warehouse in Warsaw. This second shipment will start its journey tomorrow evening and contains:
100kg of pasta
200kg of rice
105kg of oatmeal
100kg of tuna
100kg of barley
12kg of coffee
If this shipment works, we will have officially established a brand new way for supplies to reach the most hard hit areas of Ukraine, and hope to repeat the success with more frequent shipments, paid for with donations, to more cities in need.
But don't get too excited yet. We still haven't successfully gotten anything across the border, let alone across a war-torn country. I will of course keep everyone posted on progress, but it's hard to believe that this all came together in just one day — and wouldn't have been possible without an extraordinary network of volunteers in and out of Ukraine who have worked together (without knowing each other!), united around a common cause.
So it shouldn't be surprised that today was a whirlwind, and involved meeting my new Warsaw friend, Tala, whom I met through a chain of mutual friends, and going to the local Selgros (their version of Costco) to pick up supplies for our first shipment to Kharkiv. We spent over 2 hours piling sacks of flour and pasta into a shopping cart and felt like we just weren't making a dent — there had to be a better way to do this. We could spend every day shopping wholesale and driving van-loads to the border and we would end up servicing just a fraction of the humanitarian needs in Kharkiv alone, let alone the rest of Ukraine.
That's when Tala got smart and contacted a family member who owns a restaurant and got the name of the supplier, whose warehouse we visited on the outskirts of Warsaw. They're open 24/7 for pickup and all we had to do we was place an order for 500kg of food, which we did (spent only $2,000!), and voila: an industrial food supply we didn't have to manually load into shopping carts, and was already packed into pallets! This all happened before 12pm, by the way.
The next challenge was organizing a warehouse pickup, which we eventually did thanks to a friend in Lviv who had a Ukrainian friend in Warsaw with a big van and was willing to drive back to Lviv tomorrow night, so that's now scheduled. Then we had to organize the convoy in the morning for the first shipment, and make sure there was someone on the other side of the border to pick it up. And finally, I had to make it down to the border so I drove another 6 hours today, stopping over in Lublin to fill my van up the rest of the way with diapers, and of course buying another 100 power banks, 200 canvas bags and 30 duffel bags to hand out to refugees at the train station.
Like I said — it was a whirlwind — and I've put 1600km on the car so far — but for whatever reason, I'm just not tired. When I meet refugees who have been traveling for 24 hours, shell shocked, with a story in their eyes and desperation in their voice, and when I see the pictures on the news of the massacres in Irpin and Bucha, and hear stories of rape and abuse and murder and butchery happening to completely innocent people in a completely senseless war that was started by a madman who wants to see the world burn, it creates an anger and focus and adrenaline rush that makes all other material needs seem to melt away. I realized today that I haven't eaten a full meal in days. I haven't slept more than 6 hours. I haven't thought about work or about my life back in the States. All I can think about is moving faster, harder, and doing as much as possible to maybe, maybe, make a dent in stopping this madness.
And none of this would be possible without your help. Every time a Venmo alert pops up on my phone it gives the ammunition to buy more supplies, reach out for more contacts for new supply lines, etc — but most of all, it encourages me that all of us are in this fight together and we can win it.
I wrote yesterday that this war was Putin vs. every man, woman and child in Ukraine. That was wrong. This war is Putin vs. every person in the free world who believes in the power of our liberal order: in civil rights, in democracy, in open discourse, in security and safety, in commerce, and most of all, in love and peace. What I have seen in the last four days has reaffirmed for me that this war is winnable because we all share a common purpose that is larger than ourselves, and that purpose is worth fighting for.
Thank you all again for your support.